The Workshops
Within the project period from2014 until today, 1,200 people participated in over 50 workshops in the creation of the Peace Monument "Floris Pax". The created individual works of art from the workshops will be used in 2022 when the Peace Monument will be built in the Elbauenpark in Magdeburg. Among these 1,200 people, 100 young people participated in the international youth encounters of the Volksbund in Magdeburg. The Volksbund organized workshops in schools and other youth and educational institutions at 19 locations in Saxony-Anhalt. During these school and extracurricular events, participants were accompanied educationally by the Volksbund. The artistic management of the art-educational aspect was taken over by the artistMarcus Barwitzki. Within the educational pedagogical part, topics of peace education, democracy education, remembrance culture and art history were developed and deepened together with the participants.Within the artistic package, the participants deal with aspects of materials and tools, sketching and detailed drawing and plastic modeling. The workshops are conducted in two variants with different intensity.
Alternative I –Workshop "Peace tiles"(basic)
During this basic workshop small "peace tiles" will be designed. The participants will transfer their interpretation of the concept of peace to a small clay tile, once they have been confronted with the complex topic of the culture of memory and the terms "war" and "peace". This workshop is scheduled for 6 hours. Following an introduction, all participants present their individual peace messages to the group and the different drafts are discussed within the group. This process ensures that the drawings does not just arise from a spontaneous idea, but is the result of a well-founded, reflective discussion.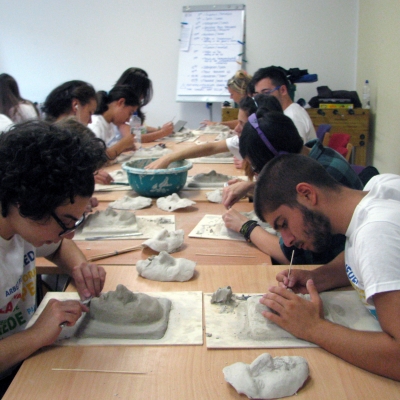 Alternative II –Workshop "Face tiles"(intensive)
During this intensive workshop, lasting for several days, so called "face tiles" will be designed. These "face tiles" will be a visible statement of the emerging peace monument - to show face for peace. During the workshop, the participants first create masks of their own faces over a period of 4 - 5 days using a bio-rubber-based mass. Afterwards, an impression is made on clay, which the participants have to model in order to obtain a vivid plastic portrait. During this artistic process you will be guided byMr. Barwitzki. The educational content of this workshop is similar to the basic workshop. Due to the longer duration of the workshop, selected topics can be discussed in more detail.